The Personal Support Worker is 700 hours in length, including 390 hours in-school theory and 310 hours of on-the-job training (Practicum) in selected health care facilities.
The Practicum is in accordance with the guidelines set by the NACC. It allows students to apply the skills and knowledge gained during the in-class training.
Graduates will obtain PSW Certificate upon completion of all necessary requirements for graduation.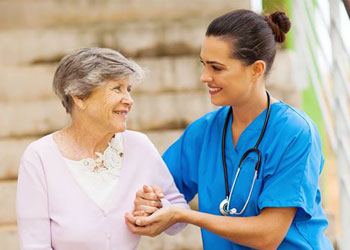 What is a Personal Support Worker? (PSW)
A Personal Support Worker is someone who is trained for employment in a number of human health sectors. PSWs have theoretical and clinical training in community and NUrsing Homes. Graduates are in demand for Hospitals, Nursing Homes, and Community Care.
Advanced Credits for Internationally Educated Nurses
Please contact the school for more information.
Admissions Requirements
Must be 18 years and above.
Have an Ontario Secondary School Diploma or Equivalent.
Have medical certificate and police vulnerability check
First Aid/CPR Level C or HCP
The College is convenient, experienced instructors…personalized guidance and membership.
PSW Students 2014
Personal Support Worker and Skills Upgrade Courses
Personal Support Worker Part-Time or Full-Time
Certificate Program Personal Support Worker (PSW) is a 700 hours vocational Diploma program. PSW graduates are employed as a nursing or patient care assistant in various fields of health care industry like home care, hospital, nursing homes & retirement homes. Our PSW graduates are well trained with the right competency and skills to become a successful safe, and professional PSW's. The college mentorship program strengthens the capacity of our graduates to be successful in finding employment after graduation.
For more details schedule an appointment with our Health Care Career Counselor…..
PSW Certification Administration / Assisting with Medication
This is a 35 hour non-vocational skill training course that would expand the scope of practice of a Personal Support Worker (PSW) as unregulated care provider to administer medications such as oral, rectal, medications, inhalations and injections. PSW students will be taught theory & practical skills on how to administer medications within legal boundaries in a competent, safe & ethical manner. A Registered Nurse Clinical Educator will facilitate the entire program. This course is delivered 3 times a year (March, June, and September)
Program Schedules:
Monday-Tuesday, Thursday & Friday (6 PM – 9:30 PM) for eight (8) days
Saturday & Sunday (10 AM –
Advanced Acquired Brain Injury Certifications
This is a 2 day course certificate that would enhance Personal Support Worker (PSW) competency and skills in assisting client/resident with acquired brain injury. With both theory and practical applications student will gain deeper understanding on the pathology and how to effectively assist client on this condition. The course will be facilitated by a Registered Nurse with strong and solid experience dealing with Acquired Brain Injury Client Population. This program is delivered 3 times a year (January, July & October)
Program Schedules:
Monday-Tuesday (6 PM – 9:30 PM) for four (4) days
Saturday & Sunday (10 AM – 5:00 PM) for two (2) days
Standard First Aid & CPR level C or HCP
This 2 day course is a pre – requisite for all health care workers including Personal Support Workers students prior to working in any health care facility. Delivered by a WSIB registered First Aid /CPR provider, students will have the First Aid & CPR training certification intended for health care professionals like those with Nursing or Medical background & Personal Support Workers.
Program Schedule:
Dates unspecified… pls. call for dates
Palliative Care PSW Certifications
Palliative care is to provide comfort and improve quality of life of a dying /terminally ill or those with progressive illness. This 2 day course will prepare PSW students the competency and skills on how to assist clients and their families in meeting / addressing their physical, psychosocial, spiritual, emotional and social challenges as they face the life limiting condition. A palliative care RN educator will facilitate the course. This program is delivered twice a year (February & September).
Program Schedule:
Saturday & Sunday (10:00 am – 5:00 pm)
Tuesday, Thursday & Friday (Weeknights 6:00 pm – 9:30 pm)
PSW Assisting with Wound Care
This is a 3 day course that will prepare PSW students with the competency and skills required to assist or be delegated to perform basic wound care to a client or resident with pressure ulcers. The course will be facilitated by a clinical wound care nurse educator. This course will be delivered twice a year (April, November)
Program Schedule:
Saturday & Sunday (10:00 am – 5:00 pm)
Tuesday, Thursday & Friday (Weeknights 6:00 pm – 9:30 pm)